This is the official web site of the Lakeville Volunteer Fire Department, located in the State of New York, County of Livingston, Town of Livonia.
---
Announcing LVFD Officers for 2018
We are proud to announce your LVFD Leadership Team for 2018! For details, please see our Membership page.
---
LVFD partners with Livonia Ambulance to optimize resources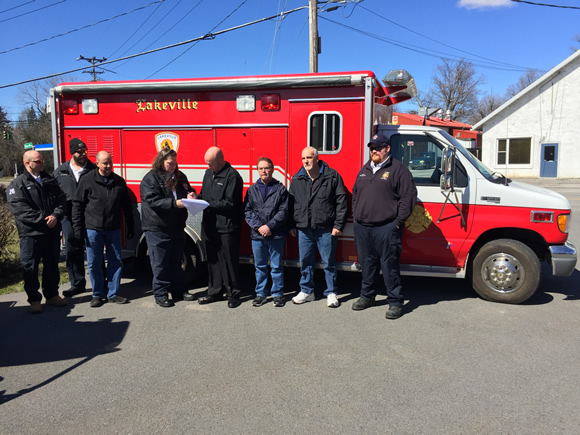 As part of our continuous efforts to improve the value of the services provided to our community, we have partnered with Livonia Ambulance and transferred the "Rescue 219" apparatus to their stewardship. 219 was designed to provide emergency medical and rescue services to our community, especially for our own first responders on emergency scenes.
As part of our Long Range Strategic Planning effort, 219 had originally been scheduled for replacement last year. However, upon review of the evolving needs of our community, it became apparent that the services provided by 219 could be more efficiently provided by other existing LVFD apparatus. Further, neighboring fire departments would benefit from a vehicle that could provide 219's capabilities.
Since Livonia Ambulance usually provides EMS services directly to the scenes that LVFD and other nearby fire departments respond to, it quickly became obvious that a partnership would be a "win-win" for the entire community: LVFD has reduced its budget overhead by eliminating yet another piece of apparatus; Livonia Ambulance gains the ability to dedicate a vehicle to any fire scene emergency support activities (vs. tying up an ambulance that may be better utilized for EMS emergencies); and 219 can provide benefits to a broader community.
This partnership will directly result in savings of more than $100,000 to the Lakeville community, but will also increase the entire community's ability to keep our first responders safe. Our ongoing partnerships between LVFD, Livonia Fire Department and Hemlock Fire Department will now also enjoy the added benefits of this new partnership with Livonia Ambulance.
---
The Lakeville Volunteer Fire Department was duly organized on September 23, 1921 as a fire district to provide protection and rescue operations within the Lakeville Fire District and to assist any other department according to the Livingston County mutual aid agreement.
The Lakeville Volunteer Fire Department is organized to save lives, and to suppress and control fires. Other services include water rescue, auto rescue, to man and train an emergency rescue squad, and any other activity that is deemed in the best interest of the fire department or the citizens of our community.
Please help support the Lakeville Volunteer Fire Department.