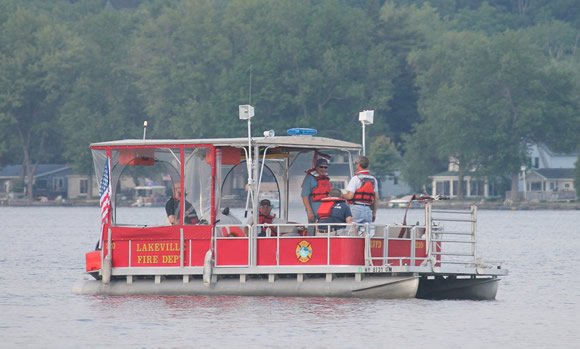 Rescue Boat B-210
B-210, better known as the "Lakeville Lady," offers unprecedented marine emergency services to the communities around Conesus Lake. For the first time ever, Conesus Lake now has an emergency response boat that is permanently stationed on the water and can be deployed to emergencies within minutes. The Lakeville Lady is equipped to handle a large variety of emergencies, including boat fires, water rescue, emergency medical calls, emergency underwater (SCUBA) operations and patient transportation.
B-210 is even equipped to respond to structure fires around the lake, and can quickly leverage the vast supply of water from Conesus Lake to help put fires out and save lives and property. B-210 demonstrated its value within just a few weeks of launching it for the first time, when one of the most significant boat fires in the history of the community took place. The Lakeville Lady was able to respond to the emergency within minutes!
Thanks to the generous support of the Conesus Lake Association, in the Spring of 2014, B-210 was upgraded with additional flotation capacity to handle the significant weight of all the equipment necessary to support the variety of capabilities offered.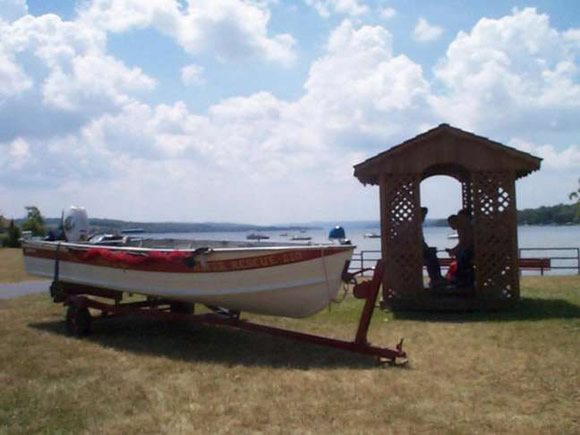 Rescue Boat B-210A
B-210A serves the fire department in water and ice rescues. Built in the late 1960's, it is the oldest fire apparatus within the fire department. Several water rescue and recovery equipment is attached with the boat for safe water-rescue operations.
B-210 was upgraded to a 35 HP Mercury outboard in 2010.