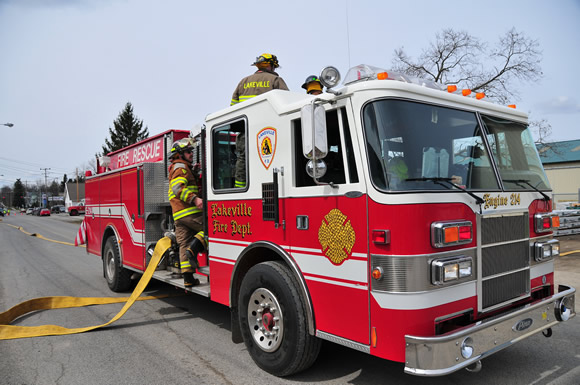 Engine 214
E-214 serves as secondary apparatus to provide additional water supply and fire/rescue resources for emergency responses, and primary vehicle for "mutual-aid" and "fill-ins" to neighboring departments. Initially placed into service in 1993, E-214 is a 1993 Pierce chassis equipped with a six-person enclosed cab, 1,250 GPM pump, 750 gallon water tank and numerous tools and equipment used for fighting fires and performing rescue operations, including a "Jaws of Life" unit.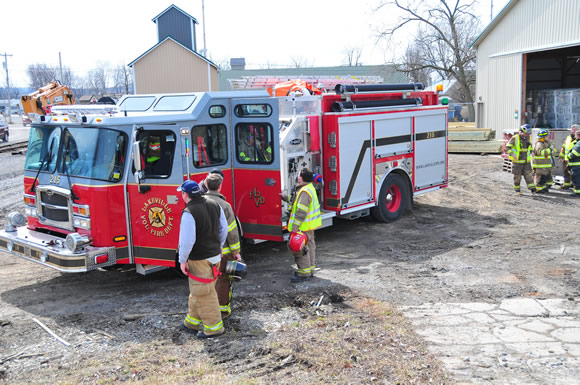 Engine 215
E-215 serves as primary apparatus for responding to all fire and motor vehicle collision emergencies. Placed into service in 2010, E-215 is the newest addition to Lakeville's fleet. It is a 2010 E-One chassis equipped with an eight-person enclosed cab, 1,750 GPM pump, 1,000 gallon water tank plus integrated "foam" system with a 30 gallon foam tank, 2,000 gallon portable pond and numerous tools and equipment used for fighting fires and performing rescue operations, including a "Jaws of Life" unit.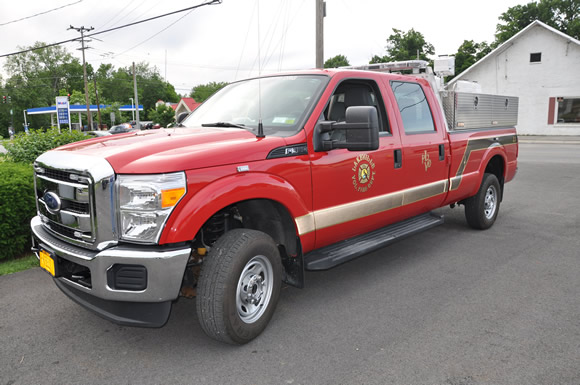 Squad Car-211
Squad Car 211 (SC-211) is the "Swiss army knife" of LVFD's fleet, providing many functions. Previous vehicles bearing the "SC-211" badge had provided a large mobile electrical power generator, which had proven extremely useful to the community when natural disasters hit.
This rare apparatus provided power to local businesses during power outages, served during the major ice storms of 1991, 1993, 1997 and 2003, and was even called on to assist our neighboring communities during other emergencies due to its unique capabilities. After nearly a quarter of a century of service, LVFD's 1987 "SC-211 Generator Truck" was replaced with the vehicle pictured above.
Building on the legacy of LVFD's "Generator Truck", SC-211 continues to offer mobile power generation but also significantly expands the functionality it provides - this vehicle also supports flood/trash water pumping, Wildland Search and Rescue, scene lighting for night operations, personnel transport and Fire Police activities. In addition, SC-211 tows LVFD's "utility trailer" which enables even more flexibility - each of the functions SC-211 offers can now be provided to multiple locations independently.
This also enables SC-211 to provide a variety of services during the same emergency. For example, after setting up scene lighting at a night-time emergency, the trailer can be disconnected and the truck may be immediately used for Fire Police or personnel transport needs. As a result of these new capabilities, SC-211 has already established itself as a key tool in providing emergency response services to the Lakeville community.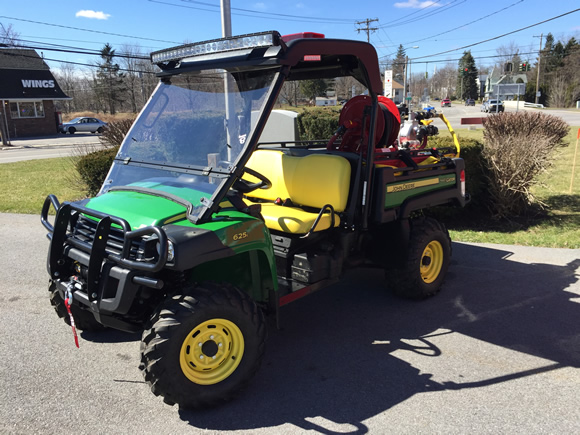 Wildland Rescue Gator
New for 2016 is the all-wheel-drive Wildland Rescue Gator vehicle. This "go anywhere" vehicle serves numerous roles and dramatically extends the reach of our emergency response capabilities into many locations that are unreachable by other apparatus. The Gator is equipped to assist with remote firefighting efforts (e.g., grass/brush fires), remote EMS and patient rescue, personnel/equipment transport and scene lighting. This valuable resource is available to all fire departments within the Town of Livonia, and is the first of its kind in our community.